With Needle in Hand is your local needlework store catering to the needs of beginning to advanced stitchers. We carry supplies for many styles of embroidery such as Canvaswork, Crewel, Cross Stitch, Hardanger, Blackwork, Stumpwork, Needlepoint, Punch needle, Ribbon Embroidery, Romanian Point, Tatting, Whitework and Metalwork to name just a few.
Threads including cottons, wool and silk are in stock and ready for your next stitching project. We also offer a nice selection of in-stock quality counted fabrics and specialty fabrics and we have many resources for a special fabric that you may need.
Historic reproduction samplers are a specific focus with designs from the 1600's to the 1800's from many sampler designers including Hands Across the Sea Samplers.
Special order requests are always welcome. Some special orders may require a down payment.
Visit our Class page for a complete list of offerings for the coming months. Classes are in session on selected Monday Evenings from 6:00 pm until 9:00pm and Saturday mornings from 9:00 am until 12 noon and are generally limited to 16 students.
We are open Monday, Wednesday and Thursday from 10:00 am until 5:00 pm. Friday hours are 10:00 am to 6:00 pm. Saturday hours are 12 noon to 6:00 pm. The shop is closed on Tuesdays, Sundays and for all major holidays. During the Winter Months, the shop will only close in the event of a large quantity of snow (4" or more) or icing conditions. Please call the shop when in doubt at 330-758-8122.
On the first Wednesday of each month, we hold a stitch-in beginning at 10:00 a.m. which lasts until 5:00p.m. Members of the Youngstown Chapter of the Embroiderers' Guild of America are part of this group and they encourage others to join them for a day of chatting, stitching and laughing. (Call the shop to be sure that we are meeting if the weather is inclement.)
Please call the shop if you are interested in booking a day for your group!
Attention Guilds and Stitching Groups Our designer and teachers are available to teach for your membership. Past or current classes can be taught for your group or we will be pleased to design a class for you based on your needs, likes and budget. Simply call us at (330) 758-8122 for more information or to schedule a consultation.
Product Lines
With Needle in Hand is pleased to carry the following lines:
Alessandra Adelaide
Anchor Threads
Blackbird Designs
Dinky Dyes Hand Dyed Silk Ribbon
The Essamplaire Reproduction Samplers
Hands Across the Sea Samplers
JBW
Just Another Button Company
Just Nan
Madeira Silk
Mill Hill (selected beads and kits)
Needlepoint Inc. (NPI) Silk
Nimue
Planet Earth Silk Ribbon
Presencia Finca Pearl Cottons #5, #8, #12, #16
Renaissance Dyeing Crewel Wool
Rosewood Manor Charts
Rovaris
The Sampler Company (England)
Sweetheart Tree
Valdani Hand-Overdyed Cotton & Silk Perle
YLI Ribbon
Plus Much, Much More!
We also stock popular stitching magazines like:
Inspirations
Punch Needle & Primitive Stitcher
Stoney Creek Cross Stitch
If you are looking for a specific item, please call us or stop in!
Calendar of Classes
September 16 (Sat. 12:30 - 4:30) or September 18 (Monday 5:30 - 9:30 pm) "A Stitcher's Journal" Class #5 Beads & Buttons
This page of our stitching journal covers different techniques of embellishment with beads and other items. You will also learn how to make hand-made buttons.
Even if you have not done a prior page, please feel free to join us!
Our final class in the series, #6, uses all the prior techniques for a whimsical concluding design. Options for inserting the completed pages into a needlework journal will be covered in the final class.
Students should bring basic embroidery supplies. Kit fee: TBA
October 14(Sat. 9:00 am - noon) or October 16 (Mon. 6:00 - 9:00 pm) "Bailey the Barn Owl" Felt Applique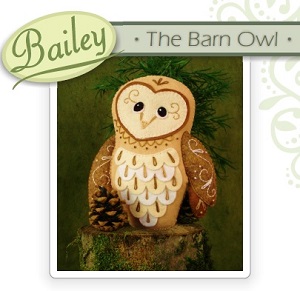 Acrylic felt is used to create this stunning "Bailey the Barn Owl". Delicate hand embroidery details add to the beauty of this creature. Project uses basic applique skills to finish this figure which stands approximately 8" tall. Embroidery stitches used include outline/stem stitch, back stitch and lazy daisy.
Students should bring scissors for cutting both fabric and paper as well as pins. Kit fee: $18.00
More Classes Coming Soon!
October 28 or 30 "Kitty & Flowers" Stitcher's Journal #6
November 11 or 13 Beginning Shisha Embroidery
November 18 "Clarence the Cardinal" Felt Applique
November 25 "12 Days of Christmas" Stocking - Surface and Ribbon Embroidery
December 2 "Naughty or Nice" Surface Embroidery & Applique, Mixed media
Keep Stitching!
All photos copyright 2012-2017 With Needle in Hand, Julia Kerner. Original With Needle in Hand designs copyright 2010-2017 With Needle in Hand, Julia Kerner. All other designs shown with permission of their respective designers/companies.