With Needle in Hand is your local needlework store catering to the needs of beginning to advanced stitchers. We carry supplies for many styles of embroidery such as Canvaswork, Crewel, Cross Stitch, Hardanger, Blackwork, Stumpwork, Needlepoint, Punch needle, Ribbon Embroidery, Romanian Point, Tatting, Whitework, Wool Applique and Metalwork to name just a few.
Threads including cottons, wool and silk are in stock and ready for your next stitching project. We also offer a nice selection of in-stock quality counted fabrics and specialty fabrics including hand-dyed wools. We have many resources for a special fabric that you may need.
Historic reproduction samplers are a specific focus with designs from the 1600's to the 1800's from many sampler designers including Hands Across the Sea Samplers.
Special order requests are always welcome. Some special orders may require a down payment.
Visit our Class page for a complete list of offerings for the coming months. Classes are in session on selected Monday Evenings from 6:00 pm until 9:00pm and Saturday mornings from 9:00 am until 12 noon and are generally limited to 16 students.
We are open Monday, Wednesday and Thursday from 10:00 am until 5:00 pm. Friday hours are 10:00 am to 6:00 pm. Saturday hours are 12 noon to 6:00 pm. The shop is closed on Tuesdays, Sundays and for all major holidays. During the Winter Months, the shop will only close in the event of a large quantity of snow (4" or more) or icing conditions. Please call the shop when in doubt at 330-758-8122.
On the first Wednesday of each month, we hold a stitch-in beginning at 10:00 a.m. which lasts until 5:00p.m. Members of the Youngstown-Warren Chapter of the Embroiderers' Guild of America are part of this group and they encourage others to join them for a day of chatting, stitching and laughing. (Call the shop to be sure that we are meeting if the weather is inclement.)
Please call the shop if you are interested in booking a day for your group!
Attention Guilds and Stitching Groups Our designer and teachers are available to teach for your membership. Past or current classes can be taught for your group or we will be pleased to design a class for you based on your needs, likes and budget. Simply call us at (330) 758-8122 for more information or to schedule a consultation.
Calendar of Classes
April 7(CANCELLED) or April 9 (Mon. 6:00 - 9:00 pm) "Sparkles" Spring Mouse - Embroidery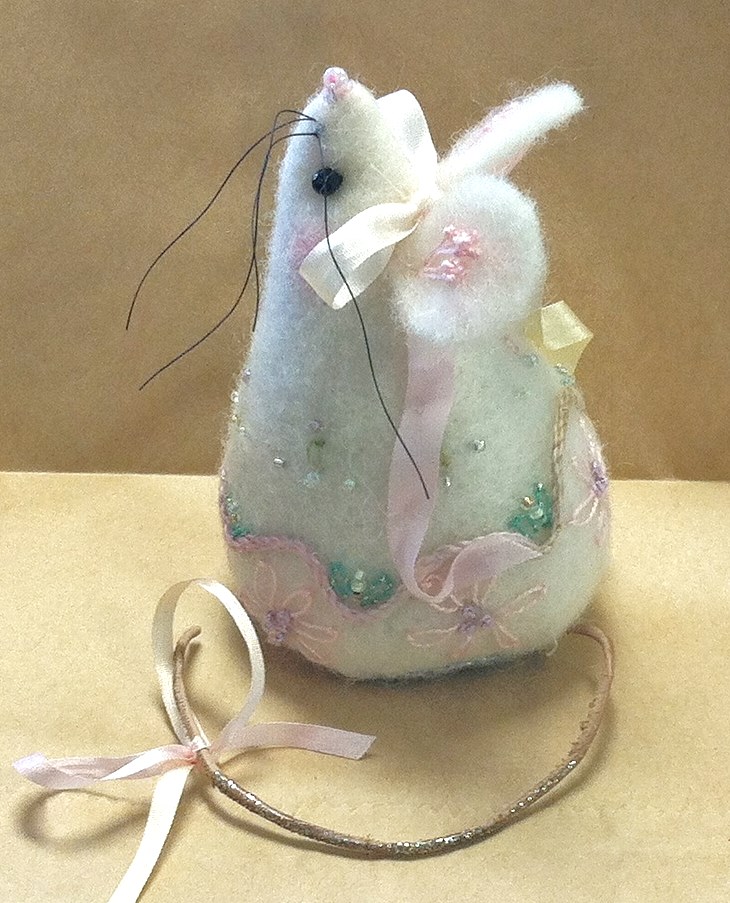 Delicate stitches and bead accents make "Sparkles" a welcome springtime companion for your stitching adventures.
Basic embroidery stitches (lazy daisy, French knot, pistil & couching) are combined to decorate the base 100% wool.
Kit includes all materials including silk ribbon, muslin for lining, and complete instructions including finishing into a weighted pincushion. Color options will vary and will be chosen on class day. Kit fee: $26.00
April 13 (Fri. 6:00 - 9:00 pm) or April 14 (Sat. 9:00 am - noon) "Strawberry Fayre" Embroidery & Finishing - Part I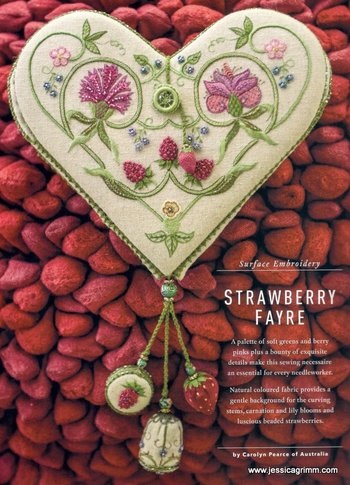 This necessare is worked as a multi-part program that includes a finishing session. Students will supply the ground fabric of their choice but all threads for stitching will be shared as kits. A wide variety of embroidery stitches and thread types are used on this intermediate-level project.
The first class will cover transfering the patterns and working the stitching on the inside panels and three pockets. The second session ( June 9 or June 11) will include lessons on the front and back covers. The third session (July 21 or July 23) will cover the last two pockets, pincushion and the smalls. The final session (August 11 or August 13) will focus on finishing techniques.
Students must have a copy of Inspirations Magazine #95 for the patterns and instructions ( copies can be purchased at the shop while supplies last). The Strawberry Fayre Supply List> can be downloaded. Kit fee for first session: $30.00 Other kit fees will vary based upon kit contents.
April 28 (Sat. 12:30 - 4:30) or April 30 (Monday 5:30 - 9:30 pm) "Plethora of Stitches" Embroidery & Beading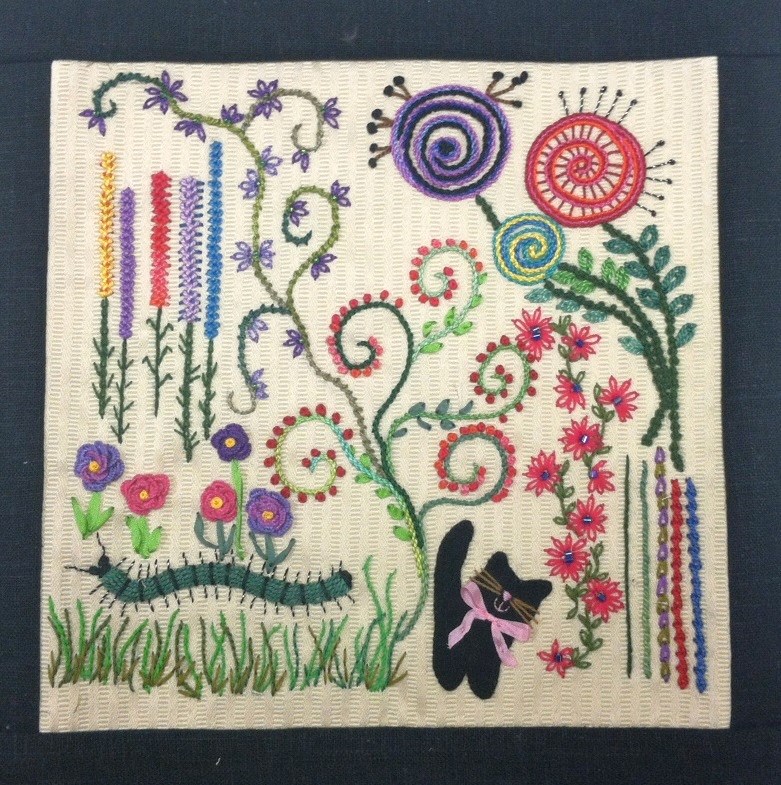 Have fun with different threads and stitches while working up this wild garden! Miss Kitty is supervising all the growing things in this whimsical design.
Finished size will be the same as earlier stitch journal pages (10" x 10") and starts our second series of pages. This class is suitable for confident beginners.
Students should bring basic stitching supplies such as scissors for paper, fabric and thread and pins. Kit fee: $28.00
May 5 (Sat. 9:00 am - noon) or May 7 (Mon. 6:00 - 9:00 pm) "Tiny Garden" - Silk Ribbon Embroidery on Velvet - CANCELLED
May 12 (Sat. 9:00 am - noon) or May 14 (Mon. 6:00 - 9:00 pm) "My Embroidered Garden" Journal Cover - Embroidery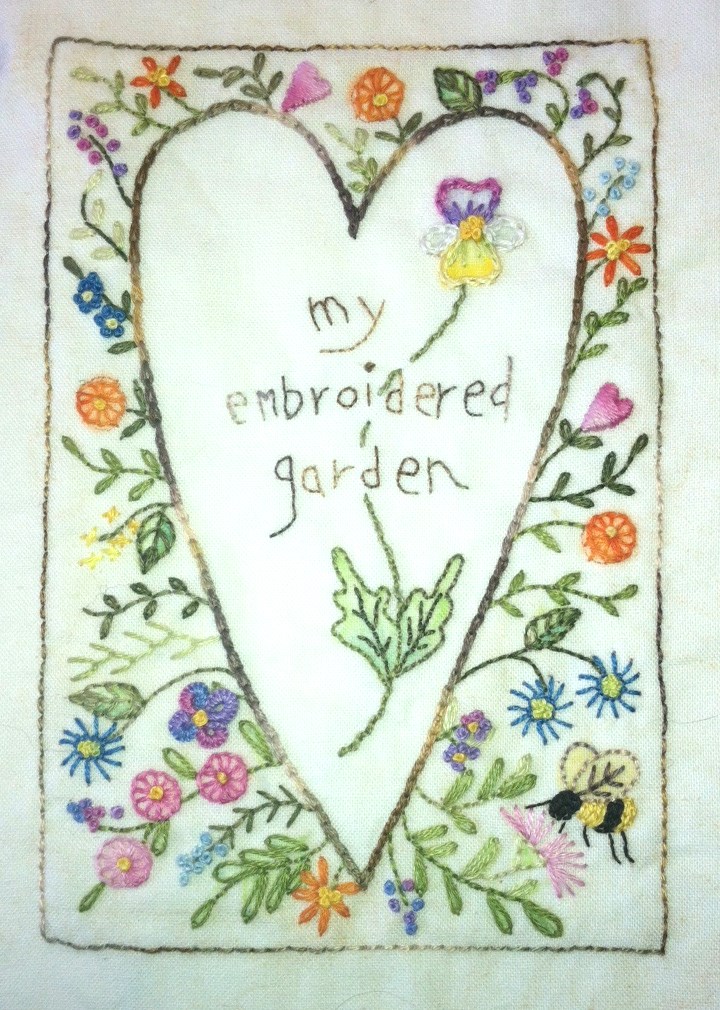 This project is simply a delight to stitch! Beginners - or experience stitchers - are introduced to basic embroidery stitches (buttonhole, outline/stem, lazy daisy, straight and satin). As it is a Crapapple Hill design, students get to do a bit of coloring with crayons prior to stitching! Solid and over-dyed flosses are used to produce this unique cover for a journal notebook.
Kit includes complete design package from Crabapple Hill, high-quality muslin, flosses, needles, finishing instructions and blank notebook. Kit fee: $25.00
May 19 (Sat. 12:30 - 4:30) or May 21 (Monday 5:30 - 9:30 pm) "Whitework Sampler" Counted Thread Techniques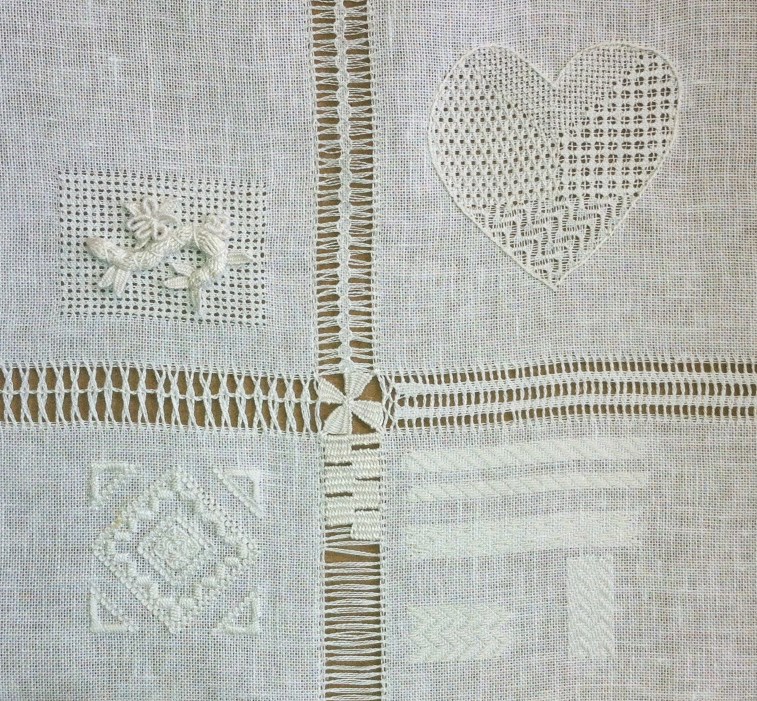 Three types of whitework techniques are be used on this 10" x 10" sampler - Hardanger embroidery, darning & pulled work. This class is perfect for the whitework beginner. All techiniques are worked on easier-to-see 25 count antique white Dublin linen with matching perle cottons.
Kit includes fabric, threads, needles and complete directions. Sized for inclusion in the Stitch Journal series.
Students should bring a 5" or 6" hoop. Kit fee: $27.00
May 26 (Sat. 9:00 am - noon) or May 30 (Wed. 6:00 - 9:00 pm) "Bargello Sampler" - Needlepoint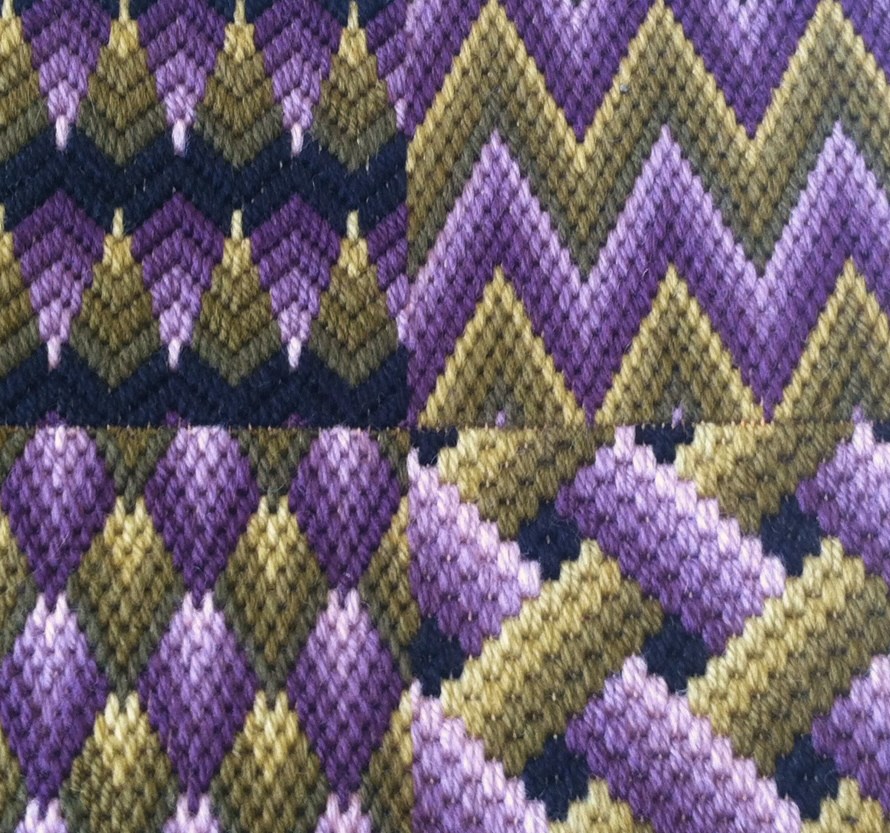 Four different simple-to-count bargello patterns are used in this sampler. Students can chose their own color palette from the full range of Anchor tapestry wools. The designs use two color families and two contrasting colors. Base canvas is 14 mesh.
A color card of Anchor wool should be picked up prior to class and color numbers chosen for the kit. Kit includes canvas, wools, needle and stretcher bars/tacks. Kit fee: $47.00
June 2 (Sat. 9:00 am - noon) Beginning Needle Tatting
Learn tatting without the shuttle! Needle tatting is a great option for new tatters with shuttle fear - there is no shuttle, only a ball of cotton and a very long needle. Students will learn to read a chart, form the tatting (double) stitch, picot and make a join.
Each student will recieve a copy of "Learn Needle Tatting Step-by-Step" by Barbara Foster - an excellently photographed and written teaching tool for needle tatting. The kit also includes a #5-0 tatting needle, needle threader, size 10 thread and crochet hook. Kit fee: $30.00
June 2 (Sat. 1:00 - 4:00 pm) or June 4 (Mon. 6:00 - 9:00 pm) "Bird of Luck" - Embroidery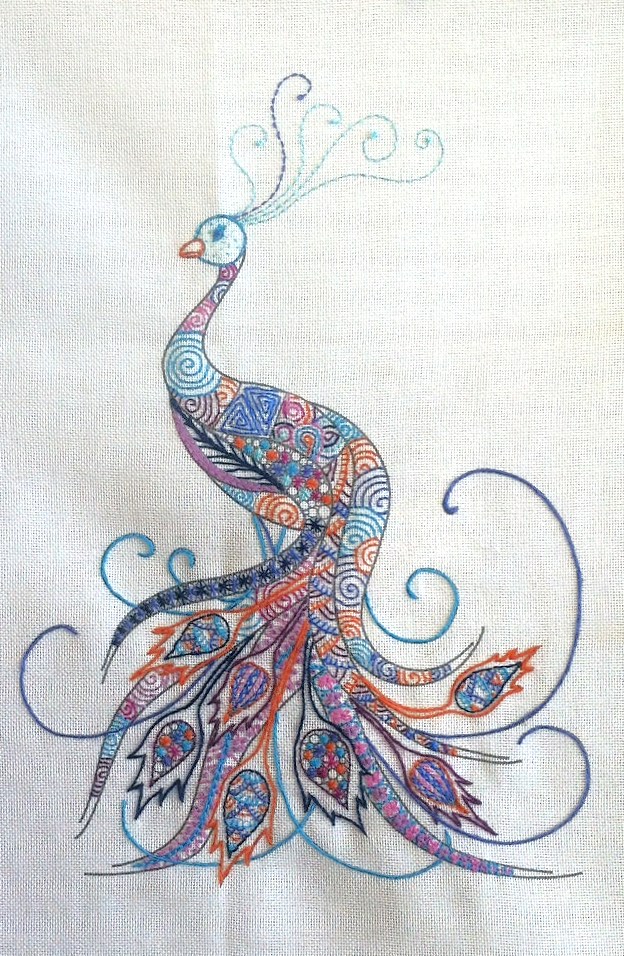 This complete kit from the designers at Riolis offers beginners a wonderful opportunity to learn basic embroidery by stitching this vibrant peacock. Design uses back, outline/stem, chain, straight, herringbone, buttonhole and star stitches. An added packet of beads gives the stitcher the option to sparkle up their bird.
Kit includes pattern printed on evenweave fabric, acrylic/wool (Safil) threads, needle and stitching instructions. Kit fee: $45.00
June 9 (Sat. 1:00 - 4:00 pm) or June 11 (Mon. 6:00 - 9:00 pm) "Strawberry Fayre" - Part II
Kit fee: $TBA
June 16 (Sat. 12:30 - 4:30 ) or June 18 (Mon. 5:30 - 9:30 pm) "Summer Samplings" Redwork Embroidery
Who doesn't love redwork, especially redwork with all the things you like about summer? Stitched on heavy toweling, this redwork design can be used as a towel or made into a tote bag or cut for use in your stitching journal. (Please choose either towel, bag or page at time of registration.)
Kit includes pattern pre-transfered, perle cottons, floss, needle and stitching instructions. Kit fee: $18.00
June 23 (Sat. 9:00 am - noon) "Pop of Color" - Beginning Cross Stitch
Brilliant colors (either reds, oranges or yellows) are used in this striking beginning cross stitch design "Pop of Color". Students will make learn to read a chart, "strand down" threads and make the cross and back stitches.
Kit includes 14 count Aida fabric, a hoop, flosses, needle, full color chart and stitching instructions. Kit fee: $15.00
June 25 (Mon. 6:00 - 9:00 pm) or June 30 (9:00 am - noon ) "Bulbs and Tubers I" - Beginning Silk Ribbon Embroidery
Inspired by Victorian era botanical prints, simple silk ribbon stitches are used to create this specimen design. The additional technique of dimensional embroidery is used to form the bulbs and tubers, giving them life-like texture. The design is worked on silk fabric with silk ribbons and silk flosses.
Kit includes ground and backing fabric pre-mounted on stretcher bars, ribbons, floss, nylon, padding, needles and complete instructions. Kit fee: $36.00
More Classes Coming Soon!
July 7 or 9 - "Holly & Ivy" Punchneedle
July 14 or 16 - Chicken Scratch Embroidery
July 21 or 23 - "Strawberry Fayre" Part III
August 4 or 6 - "Bulbs & Tubers II" Silk Ribbon Embroidery
August 11 or 12 - "Strawberry Fayre" Part IV
August 18 or 20 - English Paperpiecing and Rick Rack Embellishing
Keep Stitching!
All photos copyright 2012-2018 With Needle in Hand, Julia Kerner. Original With Needle in Hand designs copyright 2010-2018With Needle in Hand, Julia Kerner. All other designs shown have copyrights from their respective designers/companies.